Health & Beauty
All of our products are made with lavender harvested from the farm. Each product has been created with the health of you and our planet in mind. Visit our boutique on the farm to pick up your favorite products.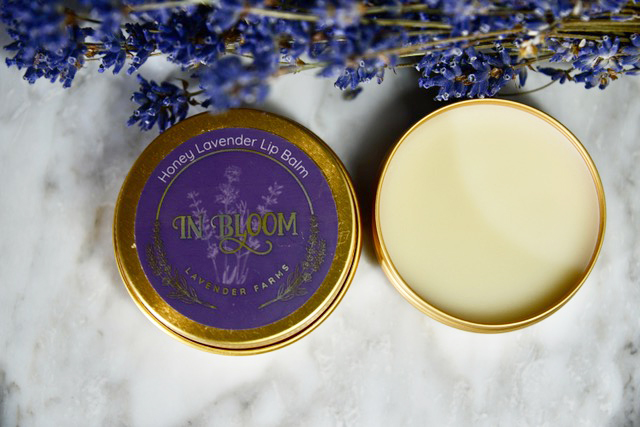 Lavender
Lip Balm
This lip balm is made with shea butter, coconut oil, vitamin E, rosehip seed oil, honey, and of course our farm-distilled lavender essential oil.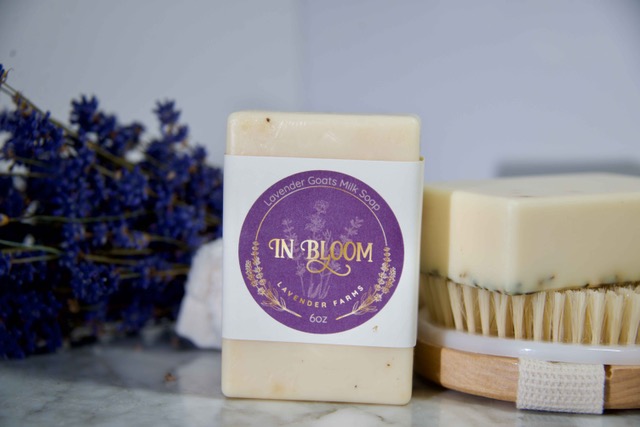 Lavender Goats Milk Soap
Beautiful hand made goats milk soap with a whole teaspoon of our lavender essential oil in each bar.  Dried lavender buds are added for a light natural exfoliation.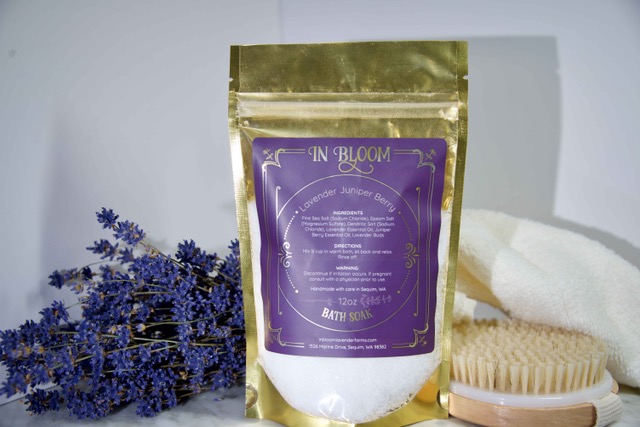 Lavender Juniper Berry Bath Soak
Made with our very own lavender essential oil, relax, rebalance, and rejuvenate with the simple goodness of natural mineral salts and the ever-popular Epsom salt.
Our Product FAQ's
Does lavender help you sleep?
Juliet Ekinaka
2022-03-04T17:56:16-08:00
Lavender works as an anxiolytic (anxiety reliever) due to the way it interacts with the neurotransmitter GABA to help quiet the brain and body. Researchers who monitored sleep cycles with brain scans ascertained that lavender not only increases slow-wave sleep, but it also slows down the heartbeat and relaxes the muscles. Therefore, if you use lavender to help you sleep you will have a more restful sleep and wake up refreshed and ready to face a bright new day.
Love from Our Customers
Love from Our Customers
Love these soaps! The Clean Hippy so far is my favorite! I have always loved the idea of home made soaps and have tried many but I'm not a fan of that tight and dry sensation on my skin after I towel off. This is the first home made soap that I have tried that doesn't make my skin feel like that and I am loving it! The all natural ingredients are a huge bonus and I honestly couldn't stop smelling my fingers afterwards that first use for the rest of the day! I highly recommend and give it all the stars ⭐️⭐️⭐️⭐️⭐️
In love! I received three In Bloom Lavender Farm soap bars as a gift and let me tell you, I could smell the vibrance in scents through the box. And it didn't stop there. The softness and scent of each bar lasted on my skin for hours. Knowing that these soap are handcrafted from a family-owned farm was a gift in it's self. I can't wait to try more of thier products and share them with friends and family. ⭐️⭐️⭐️⭐️⭐️
This soap is heavenly! It smells absolutely amazing and is so beautifully made. Every time I use it feels like a trip to the spa. I even use it on the kids before bed. I will definitely use again.⭐️⭐️⭐️⭐️⭐️
Join our mailing list today
Don't miss out on special offers and events happening at the farm!
"*" indicates required fields